As Divine Word Missionaries from around the world share with us their efforts to serve the poor and needy during the COVID-19 pandemic, a word that keeps cropping up is solidarity.
In the latest issue of Arnoldus Nota, the monthly newsletter sent to all Divine Word Missionaries from the Generalate in Rome, the leadership team writes: "The pandemic is not yet over, but we notice signs of hope. There is a growing awareness that all human beings are connected, and this could lead to more solidarity in the world."
In São Paulo, the most populous city in Brazil, Divine Word Missionaries are leading an outreach program to bring food and needed supplies (such as masks) to the city's 25,000 street people, who are at great risk due to the coronavirus. Summing up the efforts of his confreres, lay missionaries and volunteers at two Divine Word parishes, Fr. Doren Fernando Beki SVD said, "COVID-19 must cause a pandemic of solidarity."
Fr. Doren couldn't be more correct. To defeat the coronavirus and mitigate the social and economic devastation that follows it from country to country, individuals must act for the many. We must stand together with the neighbor we know across the street and the neighbor we don't know across the world. We must join in solidarity.
#GivingTuesdayNow — Standing Together Across the Globe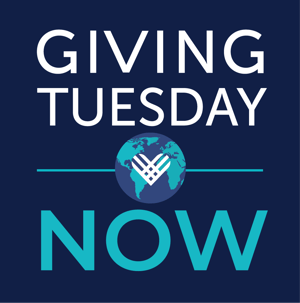 This Tuesday, May 5, offers an opportunity for such solidarity. This Tuesday has been designated Giving Tuesday Now—an extension of the call to generosity that usually falls on the Tuesday after Thanksgiving. As the horrors of this pandemic mounted, it became clear the world's needy cannot wait another seven months for relief.
Divine Word Missionaries are taking part in this fundraising effort, and are aiming to raise $10,000 on Giving Tuesday Now. With your friendship and generosity, we will meet this goal so that our missionaries can continue to protect and care for the poorest of the poor. If you have been blessed with your basic needs during this crisis, will you join us in providing for those who are suffering?
How You Can Help our Missionaries
Around the world, compassion is rising up in the face of COVID-19. Members of Divine Word Missionaries leadership team shared: "The pandemic made us realize who the people that sustain the world are. They are the multitude of those women and men who do not tire of doing good, to help others, to take care of those in need."
Donating is just one way you can join us in solidarity on Giving Tuesday Now. You can also help by sharing your participation on social media with the hashtag #GivingTuesdayNow. When you share our efforts, you are inviting others to stand with us in this act of solidarity.
Please pray for our missionaries and the people they serve—your prayers have so much power. You can also join us in prayer for an end to the pandemic. Pope Francis has called on all Catholics to pray the Rosary every day in May for an end to the COVID-19 pandemic and given us two prayers to Mary to recite at the end of the Rosary.
The funds we raise on Giving Tuesday Now will support the many coronavirus relief efforts our missionaries around the globe have mounted on a moment's notice. Our Giving Tuesday Now efforts will go towards the $100,000 COVID-19 Emergency Relief Fund we have mounted in response to this pandemic. Please consider donating $50—$75—$100 or anything you can to this effort.
In solidarity with each other and in solidarity with Christ, we will overcome this crisis and clear a path to a better world once it is over. Please join with us on Giving Tuesday Now and stand in solidarity with those suffering during this pandemic.
Help us meet our Giving Tuesday Now goal of $10,000—donate today!