Picture this: a yellow school bus comes to a stop in a residential neighborhood dotted with cheery green trees. Dozens of children happily climb aboard and eagerly await their new day of learning. The bus rolls about a mile down the road, and after traveling just a few minutes, the children spill out of their seats and head into their classrooms for the day.
For many in the United States, this is the reality of education. A school within miles (or less) of your home and transportation to get there. However, for many impoverished countries around the world, this kind of access to education is a far-off dream.
Behind the Scarcity of Accessible Education in Underdeveloped Countries
For those living in poverty, education opportunities can be few and far between—especially for those in remote areas.
One of the biggest challenges for the development of education in these countries is a lack of funding. Many rely on foreign aid to pay for their education efforts, but only 20% of foreign aid for education goes to low-income countries. In other words, money often fails to make it to the countries most in need of assistance—especially for those living in remote areas.
While many remote or rural villages and towns have local primary schools, access to secondary or high school education is severely limited. In 2020, more than 195 million children globally were not attending secondary school compared with 64 million not attending primary school.
For many, a prominent barrier to secondary education is distance. Oftentimes the distance is too far for students to travel every day and families cannot afford to pay for housing away from home.
To overcome this barrier, a group of Divine Word Missionaries is working on a special project in the small African country of Mozambique.
Dispelling the Distance: Giving the Gift of an Education Within Reach
In one of the most underdeveloped countries on earth, the people of Mozambique constantly struggle with poverty. Due to the country's lack of resources, the population suffers low literacy rates. Overall, a mere 47% of the population in Mozambique is literate.
For many students living in the remote villages of Mozambique, obtaining a high school education is next to impossible as there are no secondary schools within a reasonable distance of their homes.
Though poverty grips this population, hope can be seen on the horizon. Divine Word Missionaries know that education is an effective way to alleviate poverty, which is why our missionaries in Mozambique are embarking on a new project to construct a residential building and farm for high school students. This new student housing project will provide students in the area with the opportunity to attend high school away from home in the Liupo district, providing them with a safe and sturdy shelter to pursue their education.
The Current Dormitory
Currently, our missionaries run a house in Mozambique's Liúpo district that hosts a mere 17 students who attend a high school in the village. While this house has been a beacon of hope for this small group of young students, resources are limited and the demand for housing far exceeds the capacity.
Made of mud, bamboo and coconut leaves, the current five-room home has served as a humble sanctuary for students hungry to learn. Our missionaries are eager to expand this gift to others, which is why they are developing a new building.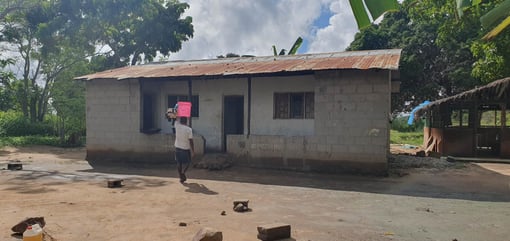 Plans for the New Housing Building and Farm
Plans for the new student dormitory include a 10-room residential building complete with dormitories, a study hall, a chapel, a kitchen and a dining hall. Here, up to 60 students will live together in a collaborative community while pursuing their education.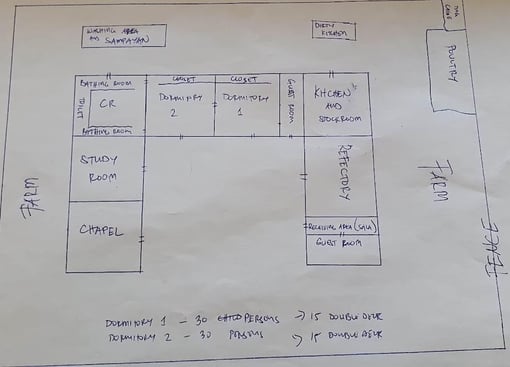 This endeavor is especially unique because it serves a dual purpose: a place to study and a place to participate in meaningful work. Along with the new dormitory, there is a large plot of land where a sustainable farm will be cultivated, providing fresh produce and poultry to residents. The students themselves will work on the farm, learning vital skills and becoming partners in their education. Earnings from the poultry farm will be used to help offset the cost of education for students, alleviating some of the financial burdens for their families back home.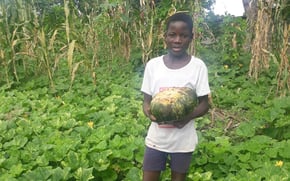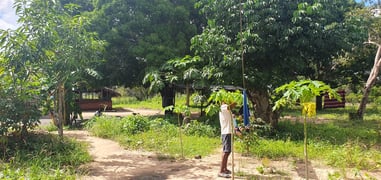 Help Provide an Accessible Education to Our Friends in Mozambique
This housing project is much more than just an opportunity for students to attend high school. It is a gateway to a brighter future, providing vital stepping stones to help lift high school youth and their families out of poverty. It is a chance for these students to learn, work and master lifelong trade skills, equipping them with an education and experience to transform themselves and generations to come.
To learn more about this life-changing mission that is bringing education to those on the margins, please visit the Mozambique Student Housing Project page.
If you would like to contribute to bringing this vision to life, you may also donate now.