Italy was one of Europe's worst-hit nations at the beginning of the COVID-19 pandemic.
When the coronavirus lockdown forced the clergy to suspend all liturgical celebrations with the faithful, we had to find value in social media as means to reach our flock.
We began by using our YouTube channel and our Facebook page to broadcast celebrations of the Eucharist, adorations, rosary recitals, Way of the Cross, etc. Although some faithful initially complained about the lack of sacraments, they later began to discover that these instruments of communication were indeed precious and helpful.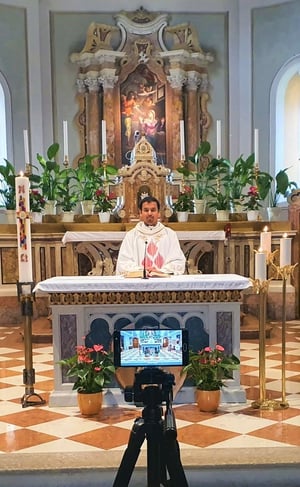 Lent During the Time of Coronavirus
During the Lenten season, especially in Holy Week, visitations of the sick with Holy Communion and blessings of families are special ministries. However, we were not able to undertake these pastoral activities this year. There was a feeling of helplessness on both ends. Therefore, we decided to reach out to our parishioners by contacting them via WhatsApp with video calls and sharing the hope of our risen Lord with them.
Through social media, we were able to organize volunteers to do grocery shopping for the elderly. In addition, we were able to collect financial and material goods that we distributed to the needy with the help of Caritas. Hundreds of food parcels and coupons were distributed.
The ban on public celebrations of funerals was one of the most painful experiences our people had to bear. Burial ceremonies were conducted at the cemetery with only close family members able to attend. Some priests decided to livestream the burial ceremonies so that the community could participate.
With the help of the Italian Bishops Conference, we were able to reach out to families, especially to the children, through online creative prayers, reflections and catechism. Many parishes engaged the youth by conducting online competitions in singing, music, dancing, cooking, drawing, poetry, etc. Video conferences were common platforms used to exchange ideas.
Regaining Normalcy in Ministry
On May 18, 2020, public celebrations of the Eucharist were restored, though not completely, and we have seen a positive response from the faithful. Our parishioners are appreciative of our online engagements and efforts. In fact, some have said that it would be better if we continue with the online celebrations until Italy can return to normality.
I must admit that the whole COVID-19 situation was a unique experience that has afforded me the opportunity to give hope and share the message of Christ with others through social media.
Join us in continuing to bring relief to the many countries still struggling with the fallout from the COVID-19 pandemic. Learn more about how you can support this life-saving relief work.